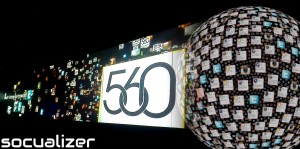 Socualizer is a product I've been developing for the past 3 months with the goal of integrating Social Media streams with high-end, club / concert grade visuals. The end result will be a turn-key, brandable, social media visualizer, with a powerful dashboard to control the streams and entire visual experience.
Technically, Socualizer is built using node.js, node-twitter, instagram-node-lib, three.js, tween.js and WebGL and some soon to be released on GitHub utility classes developed by myself to push the limits of double sided planes using WebGL.
Socualizer is currently in private beta.